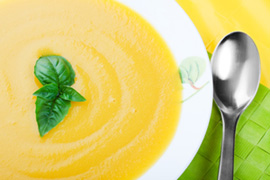 BUTTERNUT SQUASH SOUP

Ingredients:
3 cups butternut squash, cut into 1" cubes
3 cups vegetable broth (or water is fine)
3 cloves garlic
half an onion
1 cup unsweetened soy milk
1 pinch ground ginger
salt and pepper to taste
(optional) 2-3 cups cooked pinto beans

Directions:
Simmer the squash, garlic and onion in the broth for 20-25 minutes, then puree these in a blender, finally return to pot and stir in soy milk and spices. If you like, add cooked pinto beans to the finished soup for more texture and added nutrients.
POTATO SALAD

Ingredients (amounts are approximate, feel free to adjust to taste/as needed):
6 large golden potatoes (or equivalent amount of small ones)
6 gherkins/pickles (not dill pickles - something like Gundelsheim's Barrel Pickles work best)
1 pkg of extra firm tofu (the "block" type, like MoRi-Nu brand)
5 regular carrots (or 15 baby carrots)
2.5 cups frozen peas
1 small onion
1 apple (Gala or similar variety works well)
3/4 cup Vegennaise or Nayonnaise
2 Tablespoons sugar
1/4 cup vinegar
3 - 4 teaspoons salt
1/4 - 1/2 teaspoon pepper
Directions:
1. Boil the potatoes in their skins until well cooked but still firm; peel and cut into small cubes
2. Cut carrots into small cubes and boil until cooked but still firm; RETAIN 1/2 cup of water used to cook carrots for later; add carrots to potatoes
3. Cut pickles, tofu, and onion into small cubes, add all to potatoes/carrots
4. Grate whole apple with skin (except for the core) and add to potato salad
5. In a large mixing cup, add 1/2 cup water retained from carrot cooking (if you threw it out, just use tap water), vegan mayonnaise, sugar, salt, pepper and vinegar, and mix thoroughly together; add more salt/pepper/sugar to taste
6. Pour dressing over potato salad and mix gently but well
7. Refrigerate and enjoy
Note: Sometimes the potato salad needs a bit more salt after being refrigerated the first night or the first few hours - add to taste as desired.